Economic Facts
Bolivia is an upper-middle-income country with a small-sized economy, located in west-central South America. The population, estimated at 10 million, is multiethnic, including Amerindians, Mestizos, Europeans, Asians and Africans. Its main economic activities include agriculture, forestry, fishing, mining, and manufacturing goods such as textiles, clothing, refined metals, and refined petroleum. Bolivia is a resource rich country wealthy in zinc, silver and lithium. The most important for the economy are hydrocarbons – in 2014, oil and natural gas exports accounted for 54 percent of Bolivia's total export revenues and 8 percent of the country's GDP.
According to The World Bank, high commodity prices, increased mineral and natural gas exports and a cautious macroeconomic policy, have led to an economic growth that averaged 4.9% between 2004 and 2014. The driving force behind the country's economic prosperity is the domestic demand fuelled by rising incomes and narrowing inequality. The state-led economic policy and the re-nationalization of strategic sectors, divested by past neoliberal governments, are supporting the positive development of Bolivia. Around 34% of the national economy is now under state control. Nevertheless, private investment is still encouraged and has continued, in hydrocarbons and other key sectors.
Last year, Bolivian economy growth suffered a setback with the lowering of the gas and oil prices and remained below the 5% average of the last seven years. The government's deputy budget chief Jaime Duran predicted at a news conference that the public investment is expected to be the motor of growth in the next few years. The Plan for Economic and Social Development 2016-2020 in the country includes an investment of more than $48 billion USD in infrastructure, production and creation of jobs, as well as reducing extreme poverty from 17.3 percent to 9.5 percent. On 21 March this year the Bolivian Minister of Economy and Public Finance, Luis Arce stated that the forecasts show that the economy will grow at least five percent in 2016.
In 1994, an extensive educational reform in Bolivia resulted in some significant changes – educational funding became decentralized in order to meet diverse needs, the teacher training and curricula improved, intercultural bilingual education was formalized and expanded and the school grade system was changed.
Nowadays, the country devotes 23% of its annual budget to educational expenditures, which is above the average in most other South American countries.
According to UNESCO, the number of outbound Bolivian students has increased by more than 250% between 2003 and 2013, and in 2013 more than 9,100 students were seeking a degree outside the country.
Student Mobility Trends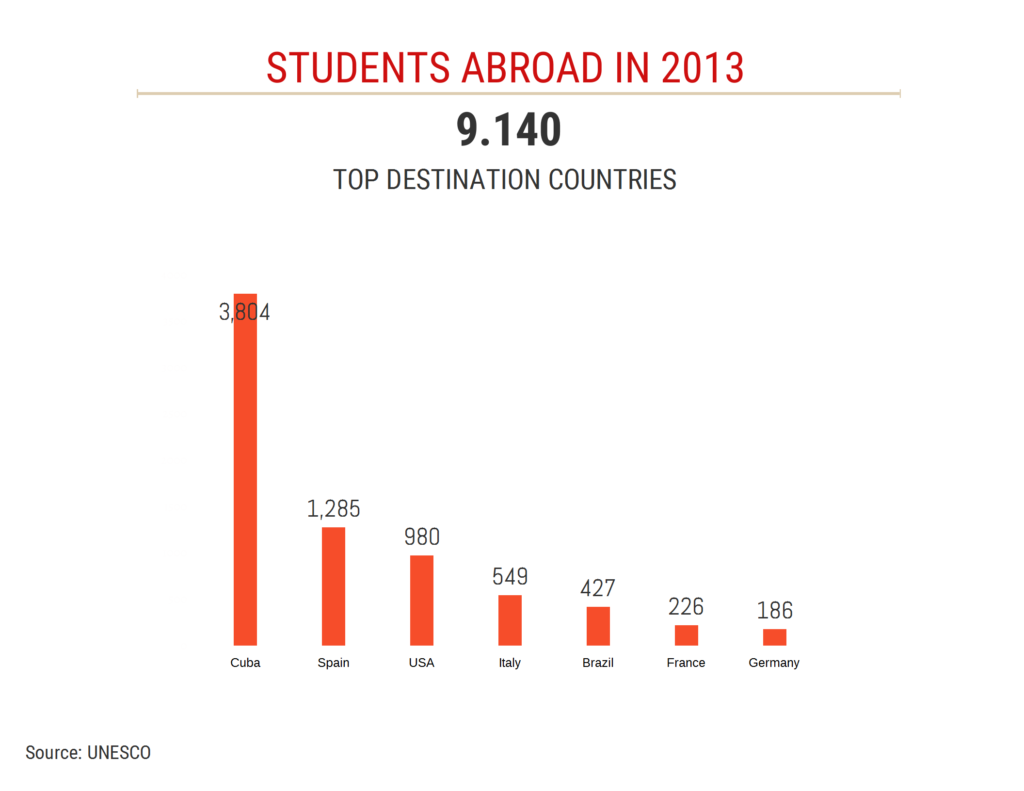 International education cooperation agreements
Scholarship Opportunities
Scholarships offered by other countries:
OAS
The organisation of American States has among its top priorities to promote and increase educational opportunities in the Western Hemisphere. The scholarships granted by the regular programme are intended for master's degrees, PhDs and graduate research and are available to all students from the OAS Member States. They should apply and secure themselves a place at institutions across South and Central America, Canada and USA.
Nikkei Scholarship
This is a very peculiar opportunity, granted by the Association of Nikkei and Japanese Abroad and available exclusively to young Japanese descendants, aged between 18 and 35. Applicants should be interested in promoting development of relationships between Japan and their country of residence and also engage in volunteering and social activities. Japanese language knowledge is required for attending lectures and general communication and if students would like to improve it, they have the opportunity to take lessons for 6 months up to one year. The scholarship includes all areas of study and covers flights, tuition, course materials, life and travelling expenses and medical insurance.
New Zealand Development Scholarship
The New Zealand Aid Programme provides scholarships for postgraduates from several Latin American countries with preference to the following disciplines: agriculture development and renewable energy. Applicants should be no younger than 18 years old and must return to their home country for a minimum of two years after competing the degree. The types of courses funded are postgraduate certificates (6 months), postgraduate diplomas (1 year) and master's degrees (1-2 years).
Culture Specifics
Religion: Catholic (95%), Protestant (5%)
Bolivians are very proud of being one of the few countries that have successfully promoted multicultural integration. They are kind, gentle people, who are concerned for each other's welfare.
Families are very tightly knit and in rural areas, many generations still often live together in one house.
The machismo mentality often translates into a feeling of male superiority and a strong sense of honour which means maintaining face/dignity at all cost.
The handshake is the most common form of greeting.
Machismo is very strong in Bolivia and this sometimes leads to restrictions on women's social and work behaviour.
Bolivians tend to be formal in their business dealings. It is always best to maintain a level of professionalism during meetings.
Relationship building is important so initial meetings should always be about establishing trust and learning a little about each other.
It is not considered a good thing to rush meetings or show impatience.
While timescales and deadlines need to be set well in advance and reiterated carefully, it should be understood that these will be viewed as flexible.
Personal relationships are important to Bolivians. They prefer to deal with those they trust; therefore they spend time developing relationships. It may take several visits to accomplish a simple task.
Student Recruitment Tips
Recent research carried out by Top Universities reveals the most important aspects for Latin American students when choosing to study abroad.
The majority of respondents indicated that they are interested in better quality of education and a variety of programmes that are not currently offered in their home countries, in order to increase their employability. They also emphasize the lack of good research facilities at local institutions and consider international universities as more reputable and recognised when it comes to securing future employment.
During the past decade, many countries from the region have launched a number of scholarship programmes to encourage students to pursue higher education in various locations around the world, seeing it as an opportunity for young talent to participate in the development of local economies.
Further research, done jointly by FPP EDU Media and Intead also offers some specifics by country.
Similarly to their neighbouring countries, Bolivians who have travelled outside of the country are more inclined to consider going abroad for their higher education studies. They also trust admissions officers to help them choose the right destination. After the measures taken by the government to improve secondary level tuition and the annual spent on education being above average in comparison with most of the other South American countries, Bolivian students are equipped with excellent basic skills to thrive in international institutions.
The main reasons behind Latin American students' willingness to study abroad are similar across the different territories – to get a good education, to pursue specific academic interests, most of which are not available in the country where they are located, to achieve important things and to get a good job in their home countries once they return.
Another common trend for the region is the concern of costs and how affordable education abroad is, so it is crucial for institutions to be able to address those appropriately in order to attract talent from these countries.