Economic Facts
Ecuador is located in North-Western South America. With population of nearly 16 million, the country is divided into 4 regions: Costa, Sierra, Oriente and Región Insular, which are further subdivided into 24 provinces. The capital city is Quito, and the majority of the population speaks Spanish.
Traditionally a farming country, Ecuador's economy was transformed by the growth of industry and the discovery of oil, and it's now fully dollarized, and largely dependent on oil revenue. Its petroleum resources have accounted for more than half of the country's export earnings and approximately two-fifths of public sector revenues in recent years.
A recent report published by Centro de Estudios Latinoamericanos, focusing on the current economic situation in Ecuador, states that the fall of oil prices, the strong dollar and the uncertainty in international markets have resulted in a decline in the economic growth of the country in the third quarter of last year, which is projected to continue in the future. Despite the high levels of public spending, investment and private consumption have been affected negatively.
On the other hand, the inflation has stabilized, but the unemployment rate continues to rise. According to international consulting studies, oil prices will remain low for the next 15 years affecting the aforementioned factors. Nevertheless, during an interview in the "Ecuador no para" program, the minister of Finance, Fausto Herrera has stated that the measures undertaken by the Ecuadorian government will help overcome the economic situation affected by the dollar appreciation and oil price reduction. He indicated that in 2017, the budget deficit will be less than 1% of the Gross Domestic Product (GDP) and that in 2018 a surplus will be registered.
Since coming to office in 2007, the current president of Ecuador – Rafael Correa has put in motion profound transformation processes in terms of the political and institutional frameworks of the country. The thorough redesign of the economic and social development strategy aim to diversify the economy and to make it more inclusive.
As a result of the reforms the educational system has experienced an unprecedented boom and has become a priority public investment sector. According to UNESCO's third assessment of student learning in Latin America, Ecuador is among those countries in the region that have most rapidly improved education quality. A report published by the World Bank Group in 2015 gives an overview of the policy changes in the country for the past eight years. These include the Ecuadorian Constitution of 2008, the Fundamental Law of Intercultural Education of 2011 (Ley Orgánica de Educación Intercultural – LOEI), the Ten-year Education Sector Plan 2006-15 (Plan Decenal de Educación – PDE), and National Development Plan 2013-2017 ("Plan del Buen Vivir").
Student Mobility Trends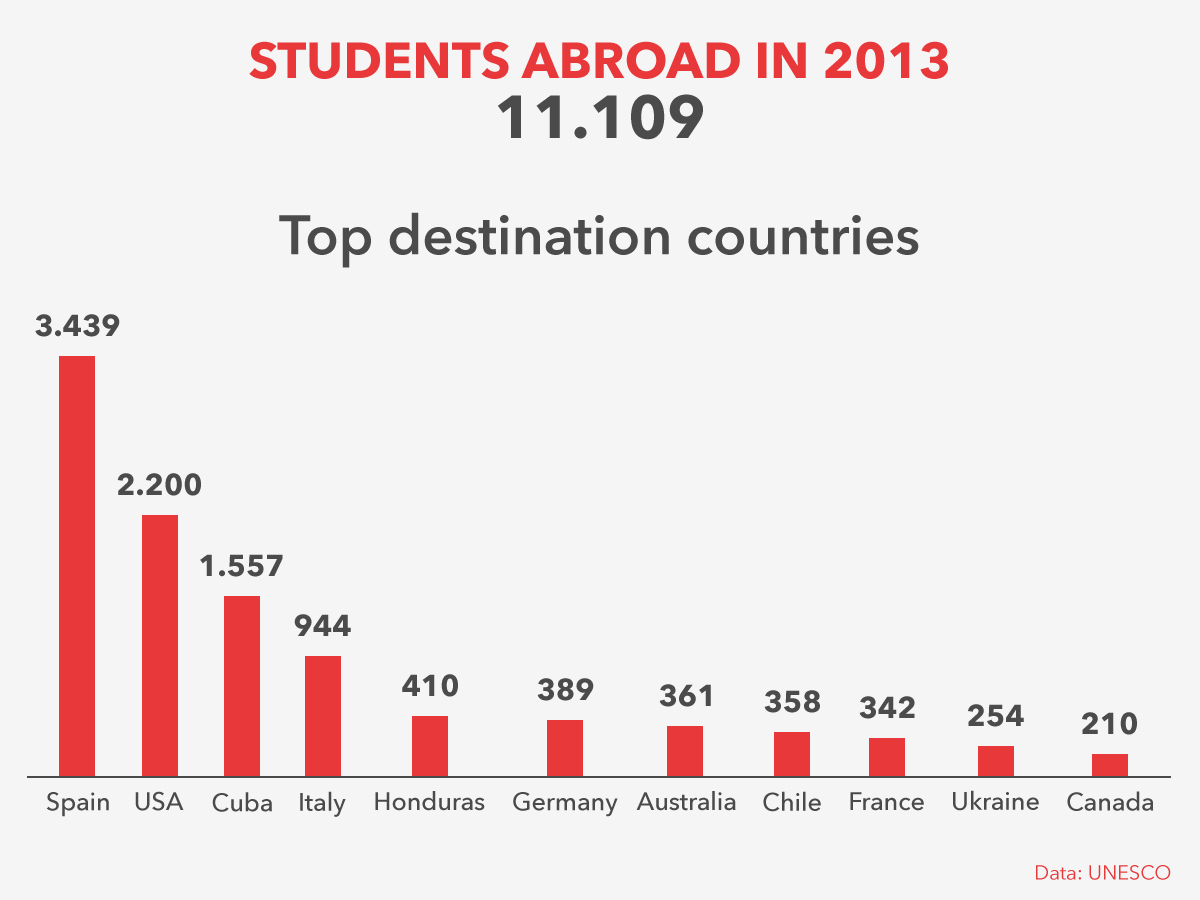 International Education Cooperation Agreements
USA: 15 institution-specific agreements, including Harvard, Yale, the University of Florida, University of North Texas and other institutions, valid for a period from 3 to 10 years
Spain: agreement with the University of Barcelona and the Higher Council for Scientific Research of Spain
Chile: cooperation with the University of Chile and the CONICYT
Australia: cooperation frameworks and agreements
UK and Scotland: institution-specific agreements with UCL, King's College London and the University of St. Andrews
Republic of Korea: memorandums of understanding with various institutions
Cuba: inter-institutional agreement for implementation of the Prometheus Grants project and mutual recognition of diplomas and degrees

The full list of countries, agreements and durations is available here.
Scholarship Opportunities
Government scholarships:
"Open Call" and "Universities of Excellence"
As a result of the recent deep reforms of the educational system, Ecuador has seen a sharp increase in the number of scholarships available through SENESCYT (The National Secretariat of Higher Education, Science, and Technology), and IECE (Ecuadorian Institute for Educational Credit and Loans). Again, under the condition that students return home, they could benefit from the following programmes:
"Open Call" – offers financial support for flights, tuition fees and living allowances for up to five years on fourth level studies – master's degrees, PhDs, and medical specialisations, in case Ecuadorians spend two years in their home country for each year they spent abroad. More information can be accessed on the official programme webpage.
"Universities of Excellence" (or "Universidades de Excelencia" in Spanish) – this scheme covers expenses for undergraduate studies across a variety of disciplines and aims to support Ecuadorian citizens wishing to obtain higher education at some of the most prestigious institutions in the world. There is no age limit for applications and the programmes cover degrees from business and administration to psychology, fashion and tourism.

Scholarships offered by other countries:
OAS
The organisation of American States has among its top priorities to promote and increase educational opportunities in the Western Hemisphere. The scholarships granted by the regular programme are intended for master's degrees, PhDs and graduate research and are available to all students from the OAS Member States. They should apply and secure themselves a place at institutions across South and Central America, Canada and USA.
New Zealand Development Scholarship
The New Zealand Aid Programme provides scholarships for postgraduates from several Latin American countries with preference to the following disciplines: agriculture development and renewable energy. Applicants should be no younger than 18 years old and must return to their home country for a minimum of two years after completing the degree. The types of courses funded are postgraduate certificates (6 months), postgraduate diplomas (1 year) and master's degrees (1-2 years).
Cultural Highlights
Etiquette and Customs
Ecuador is one of the most culturally diverse countries of South America
The most common greeting is a handshake with direct eye contact and a smile.
While shaking hands, use the appropriate greeting for the time of day: "buenos dias"(good morning), "buenas tardes" (good afternoon), or "buenas noches" (good evening). Holding out a hand, as though to shake hands, and twisting it back and forth means "no."
Fidgeting with hands and feet is distracting and considered impolite.
In general, only close friends or family use first names.
Most Hispanics have two surnames: one from their father, which is listed first, followed by one from their mother. Only the father's surname is used when addressing someone.
Ecuadorians are generally comfortable standing close to one another while talking. It can be considered rude to back up or away from someone while they are speaking.

Meeting Etiquette
Ecuadorians are more formal during a meeting than many other cultures.
Shake hands when meeting someone and also when leaving.
Beginning with small talk helps establish a base for the relationship, after which discussion of business matters can begin.
To avoid any cross-cultural miscommunication, ensure you have all written materials available in both English and Spanish.
Student Recruitment Tips
Educators wishing to attract talent from Ecuador should have in mind that top goals for students include obtaining a higher level of further education compared to the one at home institutions and also excelling their English language skills.
Through their evaluations, it is easy to notice that affordability and job prospects are of great importance for Ecuadorians – 71% indicate scholarships as the most crucial factor for studying abroad, together with the academic programmes and the institution's careers centre.
In today's extremely competitive job market, developing the right set of skills for a specific role is essential to success so it might be a good idea for educators to highlight how the degree programme actually applies to real-life cases, issues and situations.
As opposed to Chilean students, the most trusted source for Ecuadorians are the admissions officers so communication efforts should focus on content related to rankings, value of education and academic facilities.