My name is Chiara and I am from Italy.
I am eighteen years old and I am at my fourth year of Business high school in IIS Vittone Chieri. This is a technical institute where the main focus of studies is on Business, Law, Maths and English. At IIS Vittone Chieri, it is compulsory to do 300 of internship and 100 of training during the third and the fourth year. This year my school offered the opportunity to do an internship abroad to 15 students, thanks to the PON funds. There are many students that have the desire to participate, so the school decided to make a selection. The criteria for the choice is usually a B1 level of English and financial availability.
The PON program featured an internship for the period of four weeks in Sofia, the capital of Bulgaria, for a total of 120 hours of internship and training.
I decided to apply, because it seemed like a unique and wonderful experience. It would allow me to improve my English, to live through and get to know a new reality and to meet new people by creating a beautiful cultural exchange. It is also an opportunity for growth and it also represents an added value that can be included in my CV. Finally, it would help me to became more independent.
So after submitting my application form, I have been looking forward to the final selection… and I was chosen!! When I received the news, I was so happy and proud of myself, because I have obtained these results thanks to my good marks at school and to my commitment and constancy. Now I was inly waiting for the day of departure!!
When I arrived in the city of Sofia I was greeted by an agency named Bulgaria Gateway which manages projects for European students. The next day, an employee of this agency accompanied me to the company where I would have to do the internship.
During this internship I did several marketing activities that I found very interesting. I could put into practice some knowledge and skills acquired at school and learn new ones.
In addition, the PON program gave me the possibility to visit Sofia and many other places. We went to the Rila Monastery, the most impressive monument from the Bulgarian National Revival period and a symbol of the Orthodox Christian identity which it is part of the Unesco's list of world heritage.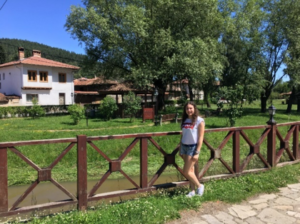 We also visited Koprivshtitsa, which is one of the most amazing Bulgarian towns that still preserves the atmosphere of the Bulgarian National Revival period and a has many beautiful museums.
In conclusion, it was an unforgettable and magic experience that will remain forever in my heart. I recommend this type of internship to all students like me who want to live an extraordinary and amazing trip, that has met all my expectations. I feel very lucky for having the opportunity to do it and I want to thank all those who have allowed me to do that. I'm very satisfied of this adventure and I hope I'll have the chance to do another one some time in the future.
If you want to learn more about the opportunities around the PON programme, make sure to subscribe to our newsletter.