One of the main factors that motivate students to look for education abroad is future employability. This is especially true for destinations such as the US. A US diploma will raise your chances of getting employed no matter where you decide to go after graduation – return to your home country, stay in the US, or move elsewhere.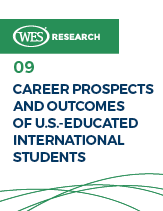 Now that the image of US education is being challenged by political and visa issues, the question of how international holders of US degrees perform in their professional careers is more intriguing than ever.
New research by WES digs into this interesting aspect of international education. Collecting data from over 1,000 US university international alumni, it aims to raise awareness and foster dialogue on the topic. The findings reveal that we don't know nearly as much as we think we do.
So, here is what we believe are the most important highlights:
Career prospects and student experience
When evaluating student satisfaction, we take into account both academic and campus experience. These two aspects play big role in international recruitment strategies, as happy current students will attract prospect students, too. The way current students feel about their professional future adds a new dimension to that experience. Are your current students feel happy with their studies and life on campus, as well as confident about their career prospects? If your answer is yes, then your institution boasts an attractive international profile!
Career prospects and going back home
In many other countries students are quite concerned about opportunities to work while studying. The US, however, reveals a different reality. Greater difficulties in obtaining permanent residence in the country after graduation mean international alumni don't tend to stick around. Thus, a strong factor in choosing a US university becomes diploma recognition and reputation outside the US. What does that finding imply for your international strategy? Building your good image for prospective international students and their families is not enough. You also need to do it for their future employers worldwide!

Working while studying
As mentioned above, international students in the US don't tend to mix work with studies as much as compared to their peers in other countries. They usually start looking for jobs quite late into their program, and thus do not take full advantage of the career services offered on campus while enrolled. The most valuable career services, according to both current students and alumni, are those that help them learn how to write a good CV or cover letter. However, nearly 1/3 of the survey respondents say they do not find university career services useful for successful job hunting outside of the US.
Curious to learn more about the way career expectations, experiences and outcomes affect international students in the US?
Get the full report for free here.